Wyoming Outfitters & Guides Association
Guiding America since 1959
Greetings from the president of WYOGA!
As we near the end of our 2020 hunting season, WYOGA members are wrapping up their hunts, moving horses, tearing down camps and beginning to plan for 2021. The outfitting industry, like the rest of America, is looking forward to the end of 2020. In many ways the outfitting industry was lucky in comparison to others in regards to how our businesses came through this unusual year.
In addition to dealing with the fallout of a pandemic, Wyoming outfitters have many ongoing battles garnering our attention. Wolf management, grizzly bears, CWD, game
management issues, non resident licensing and the elk feed grounds are at the forefront of those issues. We take a very active role with these politics and lobbying efforts. Without being able to hold our annual convention and auction,
fundraising to help with these battles has become difficult. Along with the legal battles, outfitters' booking season will be faced with the cancellation of many major sport shows such as NRA Harrisburg, SCI, America Outdoors, Shot Show and NWTF.
Without these face-to-face events, our members are turning toward new avenues to book future clients. We will also be dealing with the possibility that the Wyoming Legislature is considering convening in a virtual format. This would make in-person lobbying impossible. All of these present huge challenges for our organization and our members.
In March of this year it was undeniable we were entering a very uncertain time. We elected to cancel the annual WYOGA convention. A painful decision for our board to make. Many of our members either cancelled or at the very least conducted a shortened season of their spring bear hunts, fishing trips or turkey hunts. Outfitters received calls from clients wanting to cancel hunts and in the same day were taking calls from hunters ready to book. The demand for Wyoming licenses actually went up and the majority of our members drew and booked full hunting camps.
The summer tourism season was just as uncertain. Many WYOGA members offer backcountry pack trips, trail rides or operate guest ranches. We found ourselves wishing we had a crystal ball to predict how the summer season would turn out. Wyoming's summer tourism season was shortened but July was a record setter with large numbers of summer tourists. When social distancing began to take its toll, Americans flocked to wilderness areas ready to experience more in the great outdoors. Outfitters who opened their summer businesses, ended up doing very well. Our national forests all saw record use and trail heads were packed with cars and campers. It was encouraging to see Americans rediscover this quality resource right in their very own back yard. Hopefully this trend will continue in the years to come.
What does 2021 hold for the Wyoming Outfitting industry? New Zealand, Africa, Europe and Canadian outfitters all suffered significantly, losing their 2020 season. Many of these outfitters are trying to reschedule and shuffle clients where they could while still trying to recoup the devastating financial losses from losing an entire year's worth of income. Therefore, the demand for hunts across the west, including hunting in Wyoming, have increased. WYOGA members are reporting that early bookings for 2021 and 2022 have far exceeded their expectations. This bodes well for our members and the future of outfitting. If you're looking for a Wyoming hunt, my advice is to book early! We would love to have you come experience Wyoming's world class outdoor opportunities.
Sincerely,
Sy Gilliland, President
Wyoming Outfitters & Guides Association
Wyoming Outfitters and Guides Association is proud to announce the release of Hunting Safely in Grizzly Country.
Click here to view the 2021 Big Game Awards results for the 2020 hunt season
Our sponsors of the Big Game Awards:
Get a copy of
Wyoming Outdoors
Click to get Wyoming Outdoors — the official publication of the Wyoming Outfitters & Guides Association.
($5 postage and handling)
Wyoming License Application Deadlines
Elk: Non-residents: Feb. 1
Elk: Residents: May 31
Deer: May 31
Antelope: May 31
Moose: March 1
Bighorn Sheep: March 1
Mountain Goat: March 1
Spring Wild Turkey: Feb. 1
Wild Bison: applications open March 1
Wyoming Game & Fish Department helpful links
Outfitter-Client Yearly Statistics
Wyoming State Board of Outfitters & Professional Guides
Year End Statistics: 2019 Outfitters: 318
Species
# of Clients
Successful
%
Deer
2553
2107
83%
Antelope
2656
2464
93%
Elk
3014
2034
67%
Black Bear
74
35
47%
Moose
39
35
90%
Sheep
62
52
84%
Mountain Goat
14
11
79%
Mountain Lion
94
67
71%
Wolf
10
1
10%
Total:
8516
6806
80%
*The actual number of individuals utilizing the services of licensed outfitters may be slightly less than the totals reflected above due to some clients hunting more than one species.
Preference Points explained
"WHAT THE HECK DO YOU MEAN, I didn't draw my dang Wyoming elk license again!!!" I'm sure most of us have either said, or at least heard this very statement, quickly followed by a few other choice words of disappointment! So, if you are like many non-resident sportsmen, you have at least a few questions surrounding Wyoming's big game preference points system.

In an effort to help folks better understand how the preference points system works, a few facts, figures, opinions and application strategies will be presented. Understanding the dynamics of the Wyoming Game and Fish Department's big game license drawing may be of real benefit to you in successfully drawing that coveted antelope, deer, elk, bighorn sheep or Shiras moose license, when, where and how you wish to hunt them in future years!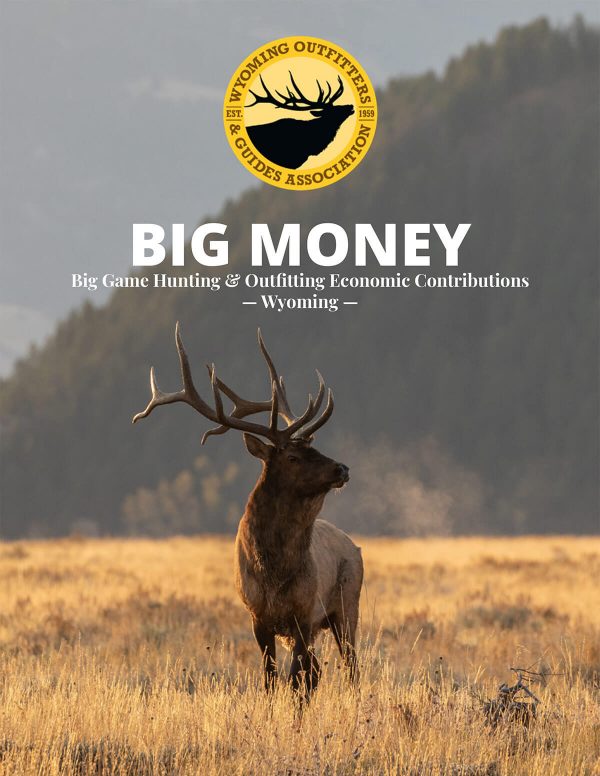 The economic impact of big game hunting in Wyoming
Wyoming hosted more than 120,000 big game hunters in 2020, of which 60 percent were residents and 40 percent were nonresidents.
Those hunters, that same year, spent $250 million on gear, travel, guides and other goods and services in Wyoming, which in turn generated economic benefits that extended to all state residents.
These same dollars went on to support 3,500 jobs…
These results are contained in a study commissioned by the Wyoming Outfitters and Guides Association and its partners, and produced by Southwick Associates. You can download the
2021 summary report here
.
Elk is the most targeted species by resident and guided nonresident hunters.

Antelope and mule deer are the most targeted species by unguided nonresident hunters.