Wyoming Outfitters & Guides Association
Guiding America since 1959
Greetings from the president of WYOGA!
Dear fellow hunters and outdoor enthusiasts:
In 2019, we celebrated the 60th Anniversary of the Wyoming Outfitters & Guides Association. I want to thank the Wyoming Outfitters that had the foresight to create and build such a strong statewide organization.
The members of WYOGA are hands down the finest outfitters in Wyoming. As you plan your next dream big game hunt or outdoor adventure, rest assured, the right outfitter to spend your hard earned dollars with is a WYOGA member.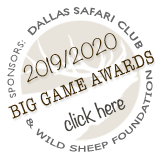 The Wyoming outfitting industry is healthy and a huge part of our tourism industry which happens to be our state's second largest industry.
WYOGA maintains a full-time office and our administrator, Laurie Marcovitz, runs a tight ship. The office requires full time attention with numerous duties including publication ad sales, fundraising, organizing our annual convention, attending the SCI & Shot Show and numerous board meetings.
WYOGA is made up of 12 Board of Directors and two Guide Representatives. WYOGA board members commit to attending multiple meetings and serving on state wildlife task forces at their own expense. Without the time and dedication by the board members, WYOGA would not be as successful as it is.
Our legislative presence is directed by our lobbyist Bill Novotny who maintains a year-round presence. The traveling sportsman's lone voice in Wyoming politics is WYOGA and we work very hard to ensure our incredible wildlife resources are shared with those who live out of our borders. The non-resident hunter receives approximately 20% of the total big game and trophy game licenses yet provides 80% of the license fee funding to the Wyoming Game & Fish. Our Wyoming Game & Fish department could not function at the level its dedicated wildlife professionals do if not for non-resident sportsmen and women.
Wyoming offers incredible hunting, fishing and outdoor experiences. The cowboy state's wildlife populations are unrivaled due in large part to a low human population, incredible and abundant habitat and responsible management by the Wyoming Game and Fish Department.
So visit our member's websites, stop in their booths at a sport show or give them a call. It's never been a better time to hunt, fish or recreate in our great state.
Sincerely,

Sy Gilliland, President
Wyoming Outfitters & Guides Association
Click here to view the 2018 Big Game Awards results for the 2017 hunt season
Our sponsors of the Big Game Awards:
Get a copy of
Wyoming Outdoors
Click to get Wyoming Outdoors — the official publication of the Wyoming Outfitters & Guides Association.
($5 postage and handling)
Wyoming License Application Deadlines
Elk: Non-residents: Jan. 31
Elk: Residents: May 31
Deer: May 31
Antelope: May 31
Moose: Feb. 28
Bighorn Sheep: Feb. 28
Mountain Goat: Feb. 28
Spring Wild Turkey: Jan. 31
Wyoming Game & Fish Department helpful links
Outfitter-Client Yearly Statistics
Wyoming State Board of Outfitters & Professional Guides
Year End Statistics: 2018 Outfitters: 316
Species
# of Clients
Successful
%
Deer
2643
2235
85%
Antelope
3254
3051
94%
Elk
3195
2050
64%
Black Bear
136
79
58%
Moose
39
37
95%
Sheep
95
78
82%
Mountain Goat
12
12
100%
Mountain Lion
84
51
61%
Wolf
30
0
0%
Total:
9488
7593
80%
*The actual number of individuals utilizing the services of licensed outfitters may be slightly less than the totals reflected above due to some clients hunting more than one species.
Preference Points explained
"WHAT THE HECK DO YOU MEAN, I didn't draw my dang Wyoming elk license again!!!" I'm sure most of us have either said, or at least heard this very statement, quickly followed by a few other choice words of disappointment! So, if you are like many non-resident sportsmen, you have at least a few questions surrounding Wyoming's big game preference points system.

In an effort to help folks better understand how the preference points system works, a few facts, figures, opinions and application strategies will be presented. Understanding the dynamics of the Wyoming Game and Fish Department's big game license drawing may be of real benefit to you in successfully drawing that coveted antelope, deer, elk, bighorn sheep or Shiras moose license, when, where and how you wish to hunt them in future years!
The economic impact of big game hunting in Wyoming
Big game hunters spent $224 million in the 2015 season in Wyoming
Big game hunters generated 3,100 Wyoming jobs in 2015
Non-Resident hunters were responsible for 51% of jobs created
Guided hunters contribute 14 times more tax revenue to the state
These results are contained in a study commissioned by the Wyoming Outfitters and Guides Association and its partners, and produced by Southwick Associates. You can download the summary report here, and the full report here.

Elk is the most targeted species by resident and guided nonresident hunters.

Antelope and mule deer are the most targeted species by unguided nonresident hunters.